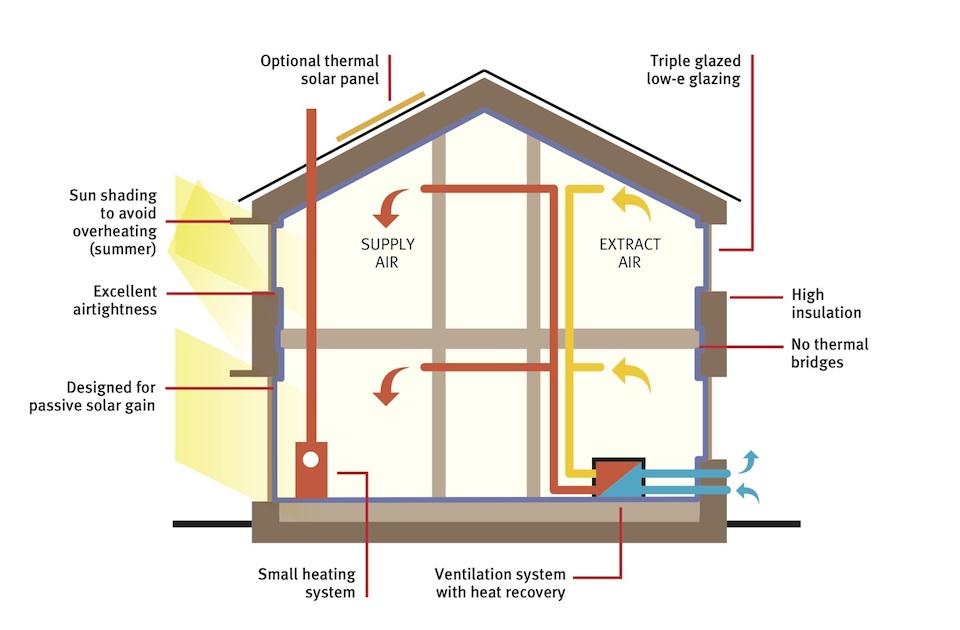 25 Feb

Scottish Passivhaus Development

John Gilbert Architects is at the forefront of Passivhaus development in Scotland. We have built certified Passivhaus homes and undertaken research into new Passivhaus techniques. Our current projects are shown below.
Passivhaus Basics
Passivhaus buildings provide a high level of occupant comfort, while using very little energy for heating and cooling. Passivhaus homes are built with meticulous attention to detail, rigorous design and construction according to principles developed by the Passivhaus Institute in Germany, and can be certified through an exacting quality assurance process.
These homes generally need 90% less energy for heating and hot water than standard buildings and have very low running costs.
The following are key characteristics of Passivhaus buildings:
excellent insulation

– 300mm is normal

airtightness

– minimising heat loss and improving comfort

solar gain

– to provide heating for the building

heat exchange system

– to improve air quality and retain heat

thermal bridging minimised

– to prevent cold spots and improve comfort.
As a consequence of these relatively simple concepts the building retains heat from activities such as cooking, using computers or showering. It uses this to heat the building and does not need a traditional central heating system. There are over 20,000 completed Passivhaus projects, mainly in Germany and Austria.
Passivhaus standard buildings come in all shapes and sizes and can be any kind of building including houses, offices, community centres and supermarkets.
As Scotland moves towards zero carbon development, Passivhaus is likely to become increasingly important standard for both new homes and non-domestic buildings.
Our Passivhaus Projects
All

EnerPHit Retrofit

Private Homes

Social Housing