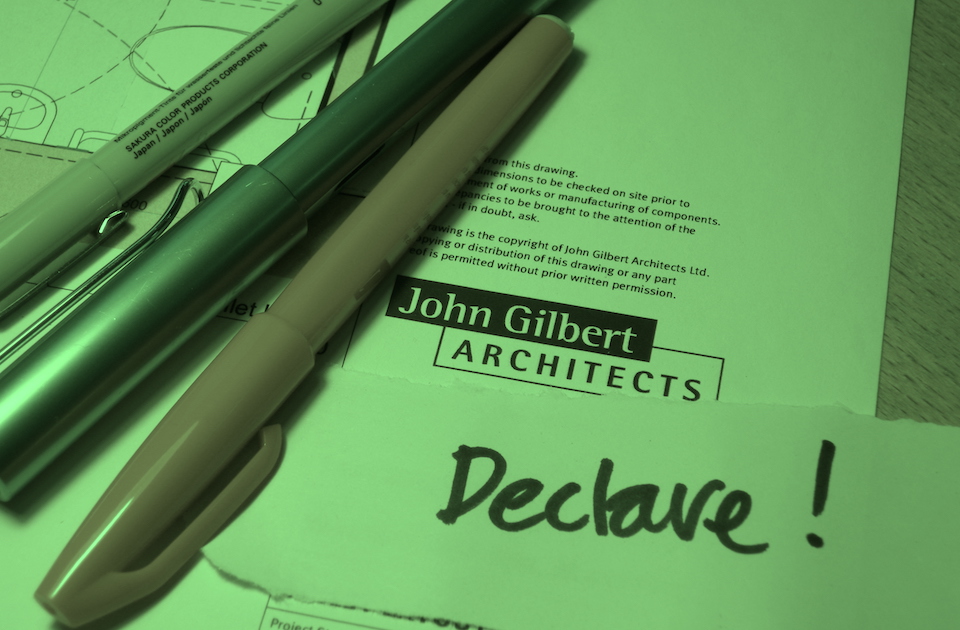 01 Aug

#JGADeclares – Our response to #ArchitectsDeclare

The Architects Declare Initiative is an acknowledgement of a climate change and biodiversity loss emergency and a clarion call to the profession to work harder to fight climate change and biodiversity loss. It recognises that the technology exists to achieve this and that all is lacking is the collective will. It comes with a list of eminently sensible actions and aspirations to which signatories sign up. It is supported by over 500 practices across the UK.

The declaration initiated a lively conversation in our office. Of course this is good thing, of course we believe there is a climate and biodiversity emergency. Adding our name to the declaration is a no-brainer?

And yet we hesitated.

In part this was because we were aware of many directly contradictory proposals emanating from those same practices which have signed the declaration. We appreciate that architects are guided by their clients and many often competing requirements and so compromise is inevitable, but the scale and nature of these proposals belies the sincerity of some signatories.

Architects Declare seems to be part of a recent enthusiasm for making grand statements which bear little or no correlation to subsequent action. We now live in a society in which, increasingly, it is what you say that seems to carry, regardless of what you do. But we firmly believe that it is what you do that matters most, and what you say shouldn't stray too far from that.

So we agree – there is a climate change and biodiversity emergency – and we completely respect the decision of other practices to sign. However, we've decided not to sign the declaration, not to state our intentions, but to talk about the more untidy reality of the everyday things we are doing to resist climate change and loss of biodiversity, and beyond that, addressing wider aspects of sustainability as a practice and as individuals.

So we initiate #JGADeclare. We will publish a series of short blogs that bear witness to our attempts to do the best we can and to honour the spirit, if not the digital signing – of the Architects Declare Initiative.