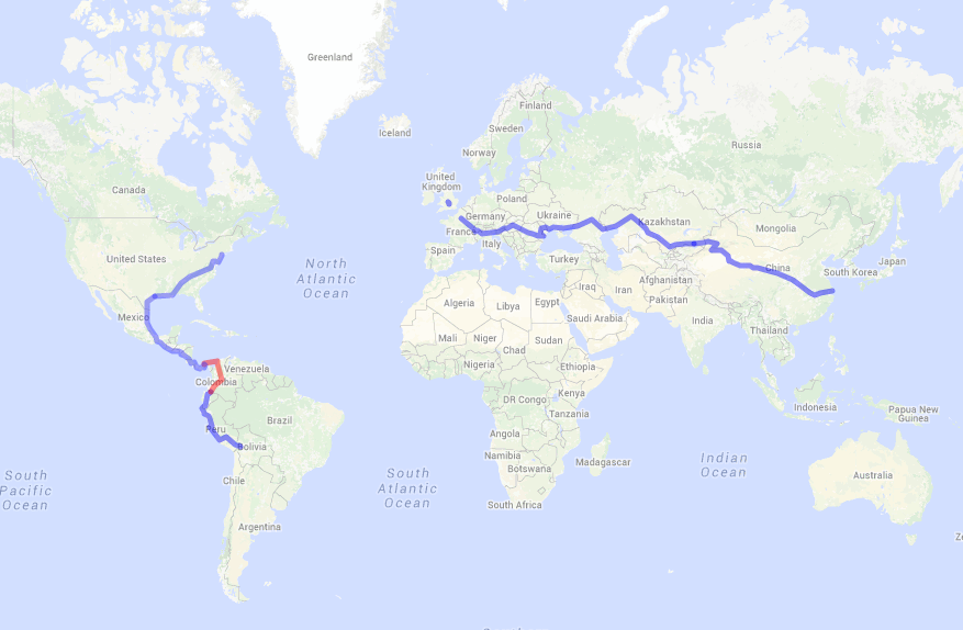 31 Aug

World On Wheels
Between March 2003 and April 2004, John Gilbert Architects Director Matt Bridgestock cycled 16,000 miles around the world – across Europe, Asia, South America, Central America and the United States. In many ways this journey has shaped his view of architecture, planning and the built environment as he explained on his return at an exhibition at The Lighthouse in Glasgow, Strathclyde University, the Bristol Architecture Centre and the University of the West of England.
The following gives some of the highlights of the journey.
---
1 April 2003 – London City Airport
Bike and bags are checked in and I am sat sipping tea waiting for the flight. A great night in the hospitality of Jury's Hotel followed by a hectic ride through central London rush hour and the Blackwall tunnel. Paris is the next stop!!
Adam's visas have been slightly delayed and we have arranged to meet 'outside the main gates at Disneyland' 1:30 on Wednesday. from there its South East.Distance: 85miles
Punctures: 0
Ronchamp Architecture Postcard can be found here.
11 April 2003
Hi folks
I am sitting in the lap of the Swiss Alps, at Brig, in bright sunshine. Adam has again taken the train to rest his knee and is sorting out campsites in Strasa.
Yesterday was a day of two halves. I woke in Lusanne to snow and sleet, undeterred I packed the freezing mass of tent and headed south dressed in all my clothing. Absoloutly baltic sleet, rain and winds challenged me throughout the morning. I stopped in the mist and clag in Montreux where and elderly lady described the normal view of the mountains. At the Southern end of Lake Geneve I took the advice of George Delacombaz (a cycle shop owner in Lusanne) and followed the TCS cycle track through the forests at the valley bottom. Through the cloud and fog I could sense the mountains bearing down on me. Still freezing, I took a lunchtime stop at the World Cycling Headquarters Velodrome, which filled me with Tea and Chips and dried some of my clothes.
After the stop, the route turned East down the valley to Sion, a complete change, the clouds evaporated, the wind picked up and pushed me down the straight and flat cycle track, snow capped mountains to each side. A really enjoyable afternoon cycling after the misery of the morning. I chose a campsite just short of Sion, hot showers and a bar, not bad.
This morning I decided to head only as far as Brig and take it easy, in preparation for traversing the mighty (2000m) Simplon Pass on Saturday.
Again I followed the great cycle track through the mountains and vin yards, next to the Rhone river. There are many cyclists out and about, one travelled with me for 5 miles chatting.
Brig is in the heart of German speaking Switzerland so signs and greetings changed throughout the day. I arrived here about 3pm and after a brief wander round the town found that the campsites are closed until May. Wanting to rest before heading over the pass I booked into a cheap B+B. I`m off for a bit to eat and a good sleep.
Distance: 650 miles
20 April 2003
At the end of a great week as a team greater than two!
Matt and Adam were joined by Andy, Nathan and Clare last Sunday in Stresa on Lake Maggiore. Monday was across to Como, then onto Bergamo on Tuesday. A long day to Sermione on lake Garda on Wednesday then a not a short as planned day to Verona. Finally on to Montegrotto, South of Padova, on Friday and a day trip to Venice on Saturday.
The weather has been great all week and the cycling good.
29 April 2003
Budapest- Hungary
Distance- 1550 miles
1 month gone already and I am takng a break in the beautiful Budapest. Camped just north of the city, I spent yesterday and this afternoon touring the sights and resting in cafes. Two days break is enough time to give my legs a good break after 8 straight days of pedalling and to mend and clean kit. I have also got to sort out cash for the leg across to Almaty, Kazakhstan. Cold hard green backs are the currancy of choice. Spent time looking over maps, got a better one of the Ukraine, and deciding the way forward from here. Looks like Im heading north and over the top of Moldova en-route to Rostov. Hitting the road tommorow, intending to be in the Ukraine early next week.
SARS is big in the news at the moment, throwing the Chinese section of the route into doubt. Still no punctures for those that are following these things. Off for a mooch abut the town and a bit of dinner.
7 May 2003
Brasov, Transyvania
Fantastic run accross from Budapest, a couple of short days to Abony, where I spent the afternoon soaking up the May Day party atmosphere, and the evening with Frank and Agnes. Agnes spoke good English and invited me to stay the night with them. From there I cycled towards the Romaninan boarder, stopping at a random bar to ask directions, I eventually left after being given beers, and recounting the whole story of the ride.
The campsite I had been directed towards looked closed and after some discussion with other site occupants, telephone calls etc, I was directed to stay in a caravan, and be gone by first light in the morning. On the road to Romania at 6am!
That day turned out to be huge, a strong tail wind and completly flat countryside took me over 100 miles to Arad, and a truck stop. Was woken in the middle of the night to the sound of shouting in the bar and chairs being thrown about. Hoped they missed my bike which was stored there. The next day I left early and with the tail wind made another 100 miles to Deva. I found a place to camp next to Nicos house, a fisherman who fed me a fatty, smoked substance, for energy.
Sibiu was Monday nights stop, absloutly everyone I have met in Romania has told me not to camp wild on my own, stories of theft and mugging are rife. With this advice I found the local campsite. After finding it closed I spoke to George, a cyclist to ask for directions to an alternative, after a 30 km ride around all the campsites in the area (closed), George suggested the motel, next to the first was the best option! Him and his daughter met me later for a beer, and more coherent conversation.
Yesterday I arrived in Brasov late, with at least 10km to the campsite, but again I was stopped in the street and Mike (triathleate and Sgt Major in the army) invited me to stay with him and his wife in their flat. I am staying there tonight, and will then head off towards the Black Sea and the Ukraine.
Going to go and take a drink in the fantastic main square of Brasov and soak up some of the sun (30 degrees+ today)
Distance: 2050 Miles
Punctures: 0
14 May 2003
Decided to go to Galati, as it ment I could cycle the whole way and give the crossing at Isaccea a try. Galati means a crossing to Moldova, for a couple of miles then into Ukraine. Hoped to pick up a transit visa on the Boarder.
Isacca was "closed" and after more grovelling to the police cheif I was sent away to Galati.
Spent a night in Galati as a guest of Razvan and Costantin. Very relaxed, listening to music and chatting.
Crossed the Romanian Boarder this morning only to be refused a transit Visa for Moldova, and escorted back to Romania. Was told that I could get a visa at Cahul, 50km north. Very frustrated, again.I am really not optimistic about the Moldova option and I reckon the formalities could take some time. Another decision time, Back to Constana or on to Moldova??
Gonna check the net for info then decide.
1 June 2003
Astrakahn: Russia
Distance: 3800 miles
On the doorstep of Asia, taking a rest day before heading into Kazakhstan tommorrow. Had a good few days across Russia, they have all been big days. 152 miles yesterday, wont be doing that in a hurry again. The land is really starting to get barren, flat sandy steppe with towns and villages getting further and further apart. Head wind has died down and I have aquired enough Russian to order a decent meal at lunchtime!
10 June 2003
4600 miles
A very quick one, I am in Aral, Kazakstan, with some guys from the US Peace Corps. Have mountain biked 650 miles from the Russian boarder along the main roads across the Steppe, had to take a secondary road which turned into a mud track, heavy rain turned it into an impassable quagmire, and after virtually carrying the bike for 5 miles I have taken the train to Aral where there is a asphalt road. Lots of adventures, been shaken by the Police for dollars too many times, got a mudgaurd (??!!) nicked, blown 2 tyres, crossed the desert and very remote parts of the steppe, and eaten some strange stuff. Kazakstan can be just plain weird.
24 June 2003
Hello from Almaty, Kazakstan.
Have had some great adventures. Kazakstan is a fantastic and intriguing country, the people are incredibly curious and so hospitable.Adventures include…
crossing the Western desert and hitting the Oil city of Atrau.
Spending a week mountain biking across the wild central steppe, unsurfaced and pothole ridden main roads make the journey a real off road challenge, great fun.
Reaching the end of the surfaced road in Embi and taking 3hrs to almost carry the bike 5 miles through thick mud, couldnt face the next 200 miles of this so bypassed it with a train ride.
The surreal fishing town of Aral, rusting boats and beach hotel, 30 km from the sea. An environmental disaster zone that the Soviet planners actually ment to happen! Met some folk from the US Peace Corp here and had a great evening and breakfast gibbering in English for the first time since Hungary!
Traversing the closed area of Baykonur (Home of the Russian space programme) didnt see a launch because of the cloud, but the town and installations around it are straight out of some futuristic mad max type movie. All in the middle of a very empty part of the mighty red desert.
The Turkistan Mausoleum, built in the 14th century it is breathtaking.
Seeing the Tien Shan Mountains rise out of the Steppe to 4000m+ snowcapped peaks. From Almaty the mountains dominate the skyline.
Staying with numerous families and appreciating the increadible hospitality of these folk.
Bike has taken a beating, 3 tyres have been trashed, the pedals need replacing and it needs an afternoon of TLC before heading to China.Cafes and truck stops with strange food and masses of tea. The food is mainly meat out in the steppe, bowls of Borscht (meaty + veg soup), shashlyk and simply a plate of boiled meat are all staples. Tea is served by the pot.The police have been an adventure in themselves, I could go on but the gist is that it takes at least 45 minutes to negotiate most police checkpoints (usually atleast 2 per day), I have only bribed one officer with money, getting through Byconor involved a grilling in my hotel room and the whole registration process in Almaty has taken two days + a fine for me. Peace Corp, Michael gave me a great mantra for this part of the world… "this is normal". It works for me! Have had a really great time here, but after 5600 miles (9000km) I am in need of a break from the bike. Clare arrived as scheduled and I am taking a couple of weeks bike to explore the some of the mountains and feed myself up for the next leg.
13 July 2003
Hello from China…
I have had a slow few days since Clare left, got lost getting out of Almaty and crossed some stunning mountains and took a whole day to cross the boarder. Lots of adventures again. I am sat in an internet cafe in a tiny town, with my host for last night, Hal-li. A very comfortable night. This is region is inhabited by Urghur people who have a culture and cuisine distinct from Han Chinese. Its an exciting ride! China is very different to Kazakstan, people everywhere, very good food, and great roads. Bikes zip about all over the place carring everything, so many different designs. Heading out towards Korla today, over the main Tien Shan range, will be a few days before I get there.
19 July 2003
Ne How from Kor-la, Xingjang Province, China.Route 218 from Yinning to Korla is absolutly the most fantastic 700km of the ride so far. I am loving it!! I have been through the lowlands, packed with people and housing, over deserts and high altitude plains, then through the mountains, inhabited by Kazak and Mongol nomadic herders and to top it all a 80 mile downhill, out of the mountains and on to the mighty Taklamakan desert and the city of Korla.
There is a huge amount of variety, always something to look at. Very friendly and open people, have stayed in the village house of Hal-li and his Urguhur family, MaHaJongs Han Chinese guesthouse, joined some military folk for vodka and chicken (was offered the best bits of the feet and head) and the height of the mountain experience was a toasty night in a Mongolian Yurt, at 3400m, eating boiled sheeps head, noodles and beer. Light snow in the morning. Magic. I am in the blistering heat of Korla for tonight, having a day off. Strange place, edge of the desert, it is all virtually brand new, construction sites all over the place, very high rise.
Distance: 6400 miles
Tyres: 4
Punctures: 1
23 July 2003
Rouqoung: Xingjang Province, ChinaWell thats the Talakmaken Desert crossed, as you expect proper deserts to be, its like cycling in an oven, blisteringly hot.
Lots of fun though, met quite a few folk, road workers, Chinese tourists (who screech to a stop in their landcruisers and photograph me in return for bottles of water and bread) and a couple of guys from near Shanghi who were cycle touring the same route as I planned from Korla up over the mountains on to the Tibetean plateau. Their aim is to cover 2000+km in the next month, even more impressive when you realise they are cycling single speed, sit up and beg flying pigeon bikes, complete with front baskets and gear tied in shopping bags to the racks at the back. And they claimed I was adventurous! Good luck guys!
A sandstorm blew in last night, glad that I had chosen to stay with a couple of roadworkers in their compound. Got real cabin fever trapped in this concrete cell whilst the wind and sand howled outside. A lull in the storm this afternoonn saw me taking a chance, and making it the 50 miles to Rouqoung, at racing pace!!
Slowly getting into the language, its a tricky one. The characters are great graphics, and some are easy to work out, however the vast majority, including people and place names, are simply pretty pictures to me and I have no chance of remembering them. Reckon I can recognise and say about 5 characters now!
The next section of the ride was covered by Nick and Richard Crane who cycled here in the 1980s, their book, "Journey to the Centre of the Earth" was an inspiation, read it online at: 
http://www.koopmann.lightup.net/crane/
2 August 2003
Delingha: 2600m up on the Tibetaen PlateauThe toughest days of the ride so far… From Rouqoing the road became a sandy track accross the desert, towards the edge of the Tibetaen Plateau, it was absolutly scortching hot. I had a bit of a stomach bug and this together with the lack of water totally dehydrated me. It took 2 days to push the bike 90km through the sand. I arrived after dark, at a road workers compound, totally exhausted. Seeing my state, the following day, they put me in a jeep for the 170km to the next town. In retrospect it would have taken me a good three or fur days feeling fit to ride (or push) this section.
The antibiotics kicked in, and revived with noodles and huge quantities of tea I headed east. The road became tarmaced and parts are being upgraded to a wide highway, these are bypassed with a gravel track.
I am cycing at altitude now, between 3100m and 3700m I am told. Its hard work even on the flat. The air is very dry, hands and lips are splitting.I pass an oilfield, I think this explains why anyone would consider building a major road in these parts. There are few towns in this area, 87km between two of them. Many towns marked on the map are abandoned, ghostly houses slowly disappearing into the sand.
I carry 8+ litres of water but this is still only enough for 24 hours at most. I am saved by the presance of large numbers of road cnstruction workers who have camps along the road, I beg food and water off them. Water is brought in by truck to everywhere on my route. In return there is little entertainment out here, so everyone comes out to speak or stare at the foreigner.
4 days ago my back wheel started to buckle, the cause is that the rim has cracked around the spoke nipples. Its not something I could fix withut some assistance and parts. In the middle of the dry plateau, low on water, I again resort to hitching. I get a lift on a water tanker, 60km to the next town.
They say bad luck comes in threes, still I was suprised when they tell me the name of the town Lenghu, 110km north of where I thought I was! A huge loop is required to get me back on track. I dont understand how I could have lost the main road and ended up on a side road. I have not passed a turn off other than the numerous gravel tracks disappearing into the sand.
There is a bike repair guy in the town, he has a box of tools, a pump and a stool. Betweeen us we cobble together a repair. The wheel is still broke, but it has since done over 500km and I am praying it will last until I can get to a town big enough to have a decent bike shop.
Last few days I have seemed to be more acclimatised, and on good roads made excellent progress. Gone over a couple of mountain passes, 4125m and 3562m bit breathless but otherwise stunning.
I find the end of the road I had intended to take, it is a gravel track, with seemingly little traffic. I am pleased that I took the tarmaced (but much longer) route.
Delingha is (hopefully) the start of the populated area, I am installed in a cheap hotel for the night and I am heading off towards Xinning and Lanzhou tomorrow. Hoping the wheel will last and that food and water are in better supply!! Going for a good feed.
3 August 2003
Xinning: Qanghai Province: Hectic 24 hours. Visit to the internet cafe was photographed by a pro. Then I was chucked out of the cheap hotel I was checked into because they dont except foreigners. Found the only hotel in town that does except foreigners (3x the price) who promptly phoned the PSB (Public Security Bureau – AKA Secret police) to report my prescence. Lots of hanging about. Interviewed by PSB man, Delingha is closed to foreigners, he tells me, as is all the route between there and Xinning (500km away). Its a long discussion involving maps and many folk to interprete.
Result is that I have to take the next bus to Xinning. He spots that I might jump ship early and insists on taking me, personally, to the bus this morning, giving me and the bus driver strict instructions, only let him out at Xinning.
Great ride through the hills, packed with Tibetan yak and sheep hearders. Prayer flags at every turn, lots of colour.
Xinning is really the end of the wilderness. Real China, packed to the rafters China, starts here.
13 August 2003
Xian, oh so lucky Xian, Central China
Have cheap, clean room
Have shower (1st for 10 days)
Have Washing Machine
Have new parts for bike
Have Chinese bike while mine is off the road
Have a great full breakfast fry
Have westerners to chat to
Can sleep, eat, and soon cycle:
Life can not get better
22 August 2003
5 months, 8200 miles, I am here, IN SHANGHAI!! Excellent. Flying to Tokyo 24/8 for a 3 day stopover, then onto LA (36 hours), Panama, Lima and La Paz.
---
30 August 2003
La Paz: Bolivia
End of the grand Pacific crossing11 time zones, 8 in-flight meals, 5 flights, 5 days, 2 hostels, 2 in-flight movies 1 business lounge, 1 bike box and endless negotiation.The highlights have included:
Shanghai Bund by night, millions of Chinese tourists and a fantastic skyline
Tokyo, Ginza Shopping zone, Asakusa Temple at dusk, Modernist housing in the area around the hostel and wandering the nightlife mecca of Shinjuku.
Whiskey on the plane to celebrate crossing the dateline
LA, wandering along Hollywood Blvd, Hamburgers and pancakes,
Frank Gehrys Disney Theatre, Modernism of LAs Cathedral, Comedy club at the hostel, only our table of Brits were giggling, (mainly at the Ozies and Germans who didnt get it) Hangover and Jetlag cure of Santa Monica and Venice Beaches
Lima, being the scruff in the Business class lounge at the airport, and full star treatment on to the plane. Business class turned out to be cheaper than economy + massive baggage excess!
With v. little sleep in these 5 days I slept for 14hr+ when I arrived here in La Paz.Refreshed and only slightly knackered by the altitude. My brief view of La Paz is that it is busy colourful and quite laid back. Looking forward to it.
9 September 2003
Her name was Lola, she was a showgirl.. da da da… Copa, Copacobana…There are 2 Copacobanas in the world, this is not the exotic, sun-kissed beach in Brazil. We are at 3,810m up on the Bolivian Antiplano, next to the deep blue lake Titikaka. The thermometer is heading below freezing tonight.
Yesterday we left La Paz (3600m) and headed out of the canyon on to the Altiplano. La Paz is actually 2 cities, La Paz in the Canyon and El Alto, on the upper rim of the canyon. Katharines fact of the day: El Alto is the fastest growing city in Latin America. It was a strenous climb but not as bad as either of us imagined. After picking up water and fuel in El Alto we headed out towards Lake Titikaka into the cool wind. We are cycing at between 3800m and 4000m, and even though acclimatised it is still energy sapping work. Camped on a rise overlooking the sun setting over the lake.
Today we have continued over to Copacobana, quick boat ride over the narrowest part of the lake with fantastic views over the lake and the surrounding snowcapped mountains. This afternoon has been fairly slow as the road went back up over 4200m before a fast and twisty downhill into the town.
Copacobana is dominated by a huge cathedral, where vehicles can be blessed. Ritual seems to involve plenty of flowers scattered about, loads of fireworks and plenty of alcohol. If you see the driving in La Paz, its easy to understand why people trust religious salvation over the highway code.
Peru tomorrow, following the lake round to the North.
Peruvian Towns write up is here.
15 September 2003
Cusco: Darkest Peru
705km out of La PazWith a little more than a jar of marmalade, suitcase and hat we have made our way from the Altiplano, over the mountains (4338m high pass) and through snow and wind to the heart of Peru. The roads have been gentle (although the winds occasionally bruising) and camping sites plentiful.
Our travels have been assisted by copious fried chicken outlets (Juliaca) info from mad Dutch cyclist(Eric), funny jelly soup (middle of Altiplano), restaurants with no food, hot springs just before Sicuani (medicinal)and a demented cow.
Going to do the tourist thing in Maccu Pitchu tomorrow and then take Tuesday stocking up and repairing in Cusco. From here it is a demanding 650km ride through remote hills to Nazcar.
19 September 2003
Abancay: Peru
Well the roast chicken got its revenge over the hills.
The ride from Cusco was over some seriously hilly areas, with snowcapped Andean peaks popping out from the clouds. It was very scenic, through tiny villages and great gorges.
It was just a bit hilly, the road crossed a 3900m pass decended to 1800m bridge only to climb back up to 3950m, then down to Abancay at 2300m. The downhills were absolutly wicked, hairpin bends, too much speed and the odd truck to dodge.
Abancay is the lowest we have slept in South America, which is good for recovery, of both legs and Matts dodgy stomach. Hope to leave soon but dont want to head into the wilds until Matts back at full strength.
25 September 2003
Nazca: PeruOut of the Andes and in the desert town of Nazca, on the Panamericano. Its been a scenic but hilly ride. To give you a flavor of the past few days without the tedious descriptions of the massive hills, we invite you to imagine travelling on a bus between Nazca and Cusco, its 5 in the morning and just getting light, youre 4000m up, freezing cold, travelled over barren remote moorland, and in the distance you see a small blue tent with two bikes. As you approach a tall, lanky gringo emerges from the tent, screaming and flapping his arms. You note he is clad in little more back-to-front undercrackers. You wonder weather this behaviour is due to severe altitude, or the birdseed he eats for breakfast or a simple overdose of Inca Kola.Eitherway the dog (the object of the abuse) wasnt scared.
Katharine cant take the madness much longer and escapes on a bus, over the last big hill, to Nazca, Meteor bike tied to the roof. Matts epic last day involves 2000m vertical ascent and 5000m vertical descent. Buzzing with adreanaline it is a very late reunion with Katharine, beer and Pizza in Nazca.
Katharine left on a bus to Lima this morning, to catch her flight. Her ability with the tea machine in the morning will be missed, her inability to stand Matts cup upright afterwards, will not!
From here its 450km to Lima, along the infamous Panamericano.
30 September 2003
Lima: Peru
Panamericano from Nazca to Lima is the road from Hell, busy, smelly and lined with chicken farms and grim towns. The best thing I can say is that I camped near a palm tree one night.I had a strange experience the last night into Lima, mistakly translating a Scripture Union campsite for a place to stay. 30 Brits all on a kind of mission, were overjoyed to meet me. God was thanked for my presance and safe travel on several occasions, which I trust is as good as being blessed. I was given an apartment for the night and good food (abeit chicken) which set me up for a hectic day into Lima.If there was a day I needed all the spiritual help I could get it was that day into Lima.There was a motor race along the Panamericano, the biggest in race Peru, the police tell me I can cycle along the hard shoulder. CAN YOU IMAGINE THAT HAPPENING AT SILVERSTONE???? I stop and watch as cars tear past. Crowds part to let them through. Im late into Lima, and only by chance make my meeting with friends Bob and Julia.Bob and Julia have basically guided me around central Lima today, filling my belly and filling me in on the Glasgow gossip. Great day.Tomorrow I will have been on the road for exactly 6 months, the halfway point. A small celebration is probably in order!
1250 miles from La Paz
13 October 2003
Humachugo: Peruvian AndesBroke through striking bus and taxi drivers to leave Huaraz and head down a beautiful valley, totally car free.
The road ran out at lunchtime and for the last 6 days Ive been riding rough tracks and pony trails, carved into the hillside. Many adventures were had, tiny villages and hamlets visited, high lonely passes, sleeping on ledges cut into the hill. Birthday was spent camped on a high ledge overlooking a fabulous sunset. Presents of Cake and whiskey from the folks at home made it quite special!
Yesterday afternoon, on a windswept pass, a ponyman offered to show me a shortcut to this town. The afternoon was spent careerring through vallies, down tracks and across moorland. Poncho clad horseman staying just on the horizon, waving me through fords and over fields. Arriving in civillisation he pointed in the direction of the main track and disappeared off over the fields.
Got into Humachugo, and hit a bit of concrete road, not really concentrating too hard on the road, looking for a hostel. A dog shot out of a shop and without even a bark, attached itself to my ankle. Needless to say a large proportion of the locals can now swear profusely in English. Owner was alerted by my loud and free abuse of the wretched mutt and tended to the wound with lots of lotions, wedge of toilet tissue and some masking tape. Half the town turned out to watch the whole thing!!
Went to hospital this morning, who cleaned the wound. Asked for rabies jab and they took me to this shed out the back where the Rabies specialist lives. Transpired he wanted to find the dog responsible…. to check he was OK???? long walk later and dog is basking in the sun. His name is Yogi and he is two years old, he has never bitten a gringo before and owner swore he had not got rabies. Interview over, dog is not even woken. This is good enough for medic who reprimands ME for cycling in shorts, this is the problem, nutter. Neither me or dog get injection.
Not sure when Im heading out of here, feeling rough and with a good cheap hostal, want to feel fit before heading back to the coast.
27 October 2003
Loja: Southern EcuadorWell there have been a few adventures, and a few big days, highlights include flying down throught the mountains and out into the desert, Chiclayo feast, big day through the desert to Piura, circling vultures, odd English travaller room mate, Lizards, bananas and parrots as I climb back into the hills and the lofty sharp ridges of Ecuador.
4 November 2003
Ecuador: Quito
11,000 miles from UK
End of the S. American road?Ecuador is a very pleasant and friendly country, the last 6 days have been great cycling through rolling green hills, over sharp ridges and into historic towns. The cycling has been tough but its ment more rests in little villages, chatting to locals and sipping fresh fruit juice. The last two days have been riding through Volcano Alley, two ridges of high and still smouldering volcanos. Under clear skies and on good roads it has been a real pleasure.Its Independance Day as I head into Quito, the shops are closed and everyone is out stolling. Under the warm sun it appears a very relaxed city.Clare is arriving early tommorow, bike is getting popped into storage for three weeks, and we are hitting the backpacker trail, en autobus.
29 November 2003
Cartagena: ColombiaCycled out of Quito and crossed back into the northen hemisphere, thinking about Colombia ahead more than the hilly road to the border. I planned to fly over Colombia from the border, but I couldnt help but keep going over all the options.
Wednesday @ 10:30am and after clearing immigration I rolled into what is the most talked about and researched country of the trip so far. I expected to see traces of the raging civil war, instead I found simply a contingant of well armed but jovial soldiers the only outward sign of conflict. I spoke to them about the road ahead, they advised me that it was safe at the moment and that I could cycle if I wanted. I didnt want to, but I did decide to take the bus, hoping to get a glimpse of this forbidden land.
The bus was an entertaining experience, just a dozen or so people on it we spent much of the time chatting and practicing either Spanish or English. There have been very few places where I have been made to feel more welcome. Combined with the stunning scenary, it is clear why so many people fall in love with this dangerous land.
I ended up taking the bus all the way to Cartagena on the North coast, about 44 hours of continous travelling, where I am hoping that a boat will take me the short distance around the Darien gap and accross to Panama. Scouring the boat clubs today it seems unlikely. The aim of a surface traverse between the Americas is slipping away, but does give me time in Cartagena to take in its beautiful old town, sandy beaches and vibrant nightlife.
1 December 2003
Cartagena: Colombia
In the Caribean man!Days of hard work, sitting in the Sailing club bar and sipping cool drinks have finally paid off. A meeting this morning with the owner of the Minorca and I am fixed up with a berth on his 50 foot luxury yacht. We leave early on Wednesday, taking 5 days to sail through the San Blas Archipeilgo to Panama.Time in Cartagena has been very relaxing, the area I am staying in is teeming with life throughout the day and night, whilst the old town is a quiet place to watch the Colombians on holiday strut about. It is one of the most interesting and beautiful places I have been to in South America, the slow pace of life and historic surroundings are captivating.In Panama it will be back on the bike after what feels like months off. Stories of travelling in Central America are told late into the night, whetting the appitite for the ride up to the States.I approach my last continent having done 11,200 miles and with less than 4 months left to New York.
16 December 2003
Puerta Limon: Costa Rica
212 miles since David
Bananas, totally Bananas!We met in David, a small town in the west of Panama, almost but not exactly as arranged. Both having experienced a bit of the Panamericano. A quick decision to avoid it was made and in the early morning sun we headed to the north coast.The first day was a bit of a baptism of fire for Nick, unrelenting hills were declared the worst it could get… sadly as we munched on homemade cake at a roadside kiosk, the rain began. Pleasantly cooling was how we first described it, really quite nice, but as it got harder and colder our thoughts changed. Still on the uphill slopes we camped and a relieved Mr Tompson was revived with pasta and soup.It got better, and the last two days have been positively joyous, crossing the continetal divide brought a superb downhill. We have followed the coast north through the massive Banana plantations. Julio cycled with us for a couple of hours chatting constantly and encouraging us to race up the short steep hills.We crossed into Costa Rica this morning, the hills have gone, leaving flat roads running parrallel to the palm fringed beaches. With lots of fresh fish, the food seems to just get better and better.Its two days from here to Turrialba, back in to the hills.
16 December 2003
Should have been written in Panama City, Dec 9:
The boat was fun, a lot of fun. We left Cartagena on the Minorca, crewed by Eslie, Carolijn and Roubans (Dutch), with us passengers; Kurt + Greg (Canadians) and Harry (Dutch). The skies were clear and the sailing swift. Before dark, the skies darkened and we hunkered down for what was thought to be just a couple of hours of poor weather. 18 hours later and the storm abated to mere torrential rain. All the crew agreed it was the worst conditions they had encountered in the Carribean. Though it it was brutal on the boat and the crew, shorts were worn throughout!San Blas islands were all that the Carribean is about, idyllic white beaches, tiny islands and plenty of reef in turquoise waters. Exploring the reef and islands captivated us for two days, plenty of fish were caught and consumed. Local Kuna folk visited the boat in dugout canoes selling colourful handicrafts whist island inhabitiants offered coconuts and idle chatter.After such a great few days it was a shock to arrive in the slum city of Colon, North end of the Panama Canal and home to the immigration officials. All was not as smooth as it could have been and we were detained there 24 hours in the hunt for the elusive entry stamp. It is one of the few places I have visited where the air and demenour of the town made me slightly nervous. It was with relief that I pedalled out of the town to Panama City, for a farewell party with the guys on the boat.
After the best part of a month off the bike it felt good to be back on the road, ready for some fun in Central America.
30 December 2003
San Salvador: El Salvador
New Year: New gear!A pleasant Christmas, in beautiful and hot Granada. Fireworks in the street at midnight followed by a party in the hostal Christmas day.Feeling refreshed but a little hungover, we left to pedal through Managua and on to another beautiful colonial city, Leon. Accosted en route by cyclist, Wilbur he assisted in locating the nights accomodation, bivvied in lean-to cow shed. Leon for lunch and it was on through the heat, past smoking volcanos and along dirt tracks towards the Honduran border.A stop in Managua had failled to find sufficient parts to repair Matts now, ailing bike. It was almost within sight of the border when it finally gave up and refused to go on. (Tech note – freewheel failed meaning the pedals could not be conected to the wheel) Reviewing our position, we decided to bus through to San Salvador in the hope that we could sort it out there. A succession of speedy buses took us through Honduras in 3 hours and via San Miguel to San Salvador, this tiny nations capital. A decent bike shop is currently busying itself with a multitude of repairs and we hope to be back on the road tomorrow.San Salvador
design review is here.
6 January 2004
Tapa-wotsit: Mexico
Its hot, Damn hot.
900 miles since DavidA couple of days surfing the strip of land between the deep blue pacific and the 3000m+ volcanic peaks. The intermittant eruptions of one were spectacular.Crossed the hectic Mexican border. Guatemala was hot but Mexico, like its food, is hotter.The square here in Tapa-do-dah is bustling with folk this evening, the 24 hour cafe supplying a fine meal. Not entirly sure where we are and to be honest not too sure what the road ahead holds, damn must get a map some time. Heading north whatever.
19 January 2004
Alamo: Mexico
The Emerald Coast
So Nick left in Tonala, and is now safely back in the UK. 5 weeks together, and over 1000 miles. He will be deeply missed, if, for no other reason than the comedy of his anti-ant dance usually performed in the dead of night. Tequilla all round in Tonala to celebrate our achievement.From Tonala I heaed North over the mountains and along the coast of the Gulf of Mexico. Vicious winds on the first couple of days reduced me to walking towards New York for a while. Accomodation has required some inventivness, a night in a school classroom, one in a small reed roofed barn and lately, the beach and camped on the lawn of a taxi driver friends residence.I had a very entertaining night with Sasha and US guests at Catemaco, an eco and conservation project with a campsite. We spent the evening around the campfire chatting and drinking local sugar cane alcahol. His website is in Spanish at: 
http://www.catemaco.org/bahiaescondida/bahiaescon.htm
 The weather is slowly changing, a bit of rain now and with cooler nights. Everyone is worried Ill get cold, people here are wrapped in coats and hats, its still about 20 degrees!
31 January 2004
Houston: we have a problem!!
Texas, USA
13800 miles since UkArrived in the outskirts of Houston yesterday after an uneventful bash along highways 77 and 59. Main events on the ride have been the places Ive stayed in the evenings most of the entertainment coming from the Americans definition of Camping as staying in a huge caravan in a car park.
As I rode into Houston I discovered that the back wheel was again failing, spokes breaking regularly. A rapid visit to REI and the problem should be solved with a rebuild by Monday.
First impresions of Houston are size, big and full of cars. Superbowl is here tomorrow, the stars are in town and everyone is talking about it.
Dad and Geoff fly in within the hour so Im off to the airport to pick them up. Its been 21 days straight on the road so a few days off is heartly welcome.
12 February 2004
MARDI GRAS: New Orleans
Louisiana: USA
512 Miles from Houston, 10 days on the road, through the thickets, swamps and crawfish ponds of the deep south. The weather as vairiable as the landscape. The lunchtime burger has been subbed for Cajun Chicken and the occasional Po-Boy. Pick-ups and denim dungrees the indispensible fashion accesories. Locals regale us with stories, the cat that de-ad on the bathroom floor, BSE transmitting birds and tales from the dark side of this beautiful city.In a secluded campsite out on the plain the managers prepared us for the festivities here, Mardi Gras King Cake and 3 sets of beads were gifted. Keen anticipation has encouraged us to take a couple of days here, to soak up the festivities. There is also a chance that the knees, back and other aches will be cured by endless dancing and copious alcohol!The mighty Mississippi nearly thwarted our efforts to reach here last night, the Sheriff prohibiting bikes on the bridges so the wide muddy river was crossed by ferry in the dark and mist. As spooky as the Youth Hostals reputation (haunted by a confererate soldier whoooh)The French Quater, paddle steamers, Jazz and a street car home await.Take care YAll
21 February 2004
Birmingham: Alabama USAA sunny ride through Mississippi and Alabama states. Route 11 took us away from the burger joints and endless shopping malls and into redneck territory. A beautiful lakeside campsite, chatting with Archie Donald and customers in his Grocery, then far too long spent in Mas kitchen cputting the world to rights, feasting on meatloaf and filling up on Ice Tea.
Our ride into the outskirts of Birmingham was halted by THE FIRST CYCLIST we met in Alabama, Jeff who has invited us to stay with him and his wife, Megan and two kids. The house is full and there are burgers on the BBQ.
2 March 2004
Black Mountain: North Carolina
USA
15250 MilesFrom Alabama, I headed North to hit the Appalachian mountains. Stopping in Rainbow City, guest of Scott, Allan, Sherri and the Rainbow City Boy Scouts. Entertainment and good Mexican food powering me through the next couple of days of poor weather and chilly headwinds. Sequoyah Caverns Campground was the next stop, owner Roy, giving some timely weather info helping me avoid the snow that was falling in Chattanooga. American drivers have trouble with cyclists at the best of times, didnt want to complicate things with snow as well.I was then into the National Parks that dot the southern edge of the Appalachian mountains. The weather picked up and clear skies and great views of the forrested hills were my reward for the rain.I headed onto Blue Ridge (
http://www.nps.gov/blri/
) a road along the top of the hills running parrallel to the mountains. Its closed to traffic at the moment but I was assured a bike could get through the snow. It was a terrific route, high and lonely, I wandered up and down just below the clouds. I had planned to follow it all the way north and whilst it was a beautiful route, I decided I didnt have the mental energy for another long range of hills, bears, more snow and a possible panic dash to New York.I left the Parkway in the dark last night and I a fruitless search for an open campground I ran in MTBiker Brian, who offered a shower and a soft floor.Re-energised I am leaving the hills today, but my eyes and heart are now totally set on getting to New York and the plane home.
11 March 2004
Washinton DC: USA
Elvis has just left the Building.I am on the final leg of this adventure, in the sunny and sophisticated capital of the USA. I am staying with Dan and Maia, a couple who I met way back on the flight accross the Pacific. Yesterday I wandered the government district, images from the news on every corner, the Capitol building which dominates the skyline, the tiny White house and the Mall. Very grand and impressive.The last few days accross the Virginia plains held some interesting encounters, Lewis, a vaccum cleaner sales man who brought me breakfast, Anglophiles John and Brenda who prepared a full fry to get me down the road, and Armish Janet who let me sleep in the warm hay barn whilst outside was freezing. In short a pleasant few days. The weather is looking good for the ride up to NY and I have found a route that will take me along the back roads of New Jersey and accross the bay into New York.
18 March 2004
New York: USA
After a year on the road, over 16000 miles and I have made it into New York just a day behind schedule. Its effectively the end of the road, and as the Manhattan Island appeared on the horizon I was elated.
Three days ago I had imagined it was all over, with just 50 miles left I had hoped the clear skies would continue for 1 more day for a glorious last leg. In a twist of fate, this was not to be, for the past 2 days I have been cycling in very difficult conditions through a snow storm, all the time the thought of being so close. A ferry proved to be a savior from the snow and the sketchy NY drivers.
In the last few days I have been through the whole spectrum of emotions, hugely elated to be so close to achieving a dream, frustrated at the weather, crying with the cold then so excited to be going home.
I am still absorbing the fact that I am here, that there is no cycling tomorrow and in a few days I will be back in familiar territory.
Tomorrow I will be flying back to the UK and a bit of a celebration. Its a moment to be savoured.
21 March 2004
Warwick: England
16082 MilesJust after 4pm yesterday afternoon I cycled back to Warwick Castle gates. The ride home was blustery but with a few friends and an early chip shop stop it was a lot of fun.A crowd greeted me at the gates with a big banner and bottle of bubbly. The party continued back at my parents house, lasting late into the evening.